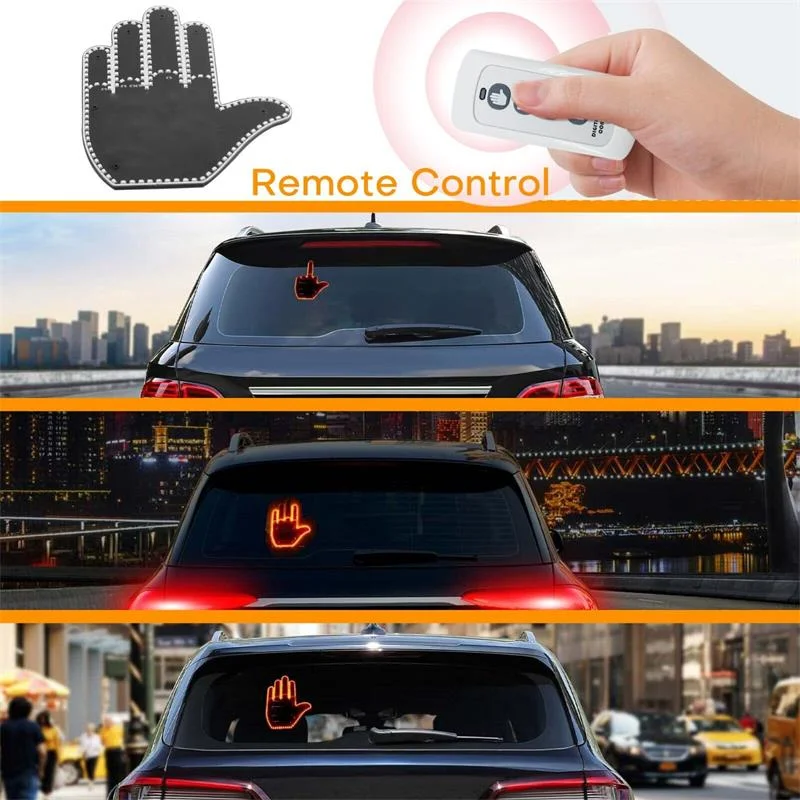 ${data.index + 1}/6
Świetna lampa wyświetlająca gesty

Pokaż swoje uczucia innym kierowcom w bezpieczny i interesujący sposób.

Ta lampka gestów ma trzy tryby gestów, które mogą pomóc przypomnieć i przyciągnąć uwagę innych kierowców lub uprzejmy kierowca pokazuje swoją miłość lub podziękowania. Oczywiście kierowca kieruje ptaka na drogę, aby robić irytujące rzeczy.


Wystarczająca jasność w dzień i w nocy

Składa się ze 176 kulek LED. Gestowy gadżet samochodowy jest wystarczająco jasny i wyraźny, aby można go było używać zarówno w dzień, jak i w nocy, zapewniając, że światło gestów jest wyraźnie widoczne dla innych kierowców. Jest to fajny gadżet samochodowy dla kierowców.
Łatwa instalacja

Wystarczy oderwać taśmę rzepową 3M na lampie gestów i pilocie zdalnego sterowania, wkleić ją w idealnym miejscu i nacisnąć przez 30 sekund (należy wcześniej wyczyścić miejsce, które chcesz wkleić); Następnie możesz zacząć pokazywać ciekawe gesty.
Zgodność z amerykańskim prawem drogowym

Część samochodowa tej męskiej lampy 176 LED jest bursztynowa i nie miga, więc gest jest legalny w większości amerykańskich stanów. Jest to dobry prezent dla mężczyzn i kobiet, odpowiedni na urodziny, Boże Narodzenie i Nowy Rok.
Specyfikacja

Rozmiar: 6 x 4,7 x 1 cala